AC, Inc. has a fully integrated manufacturing facility located in Huntsville, Alabama, with sheet metal, machining, welding, blasting, painting and final assembly capabilities.
We can handle very large and complex items and often do the jobs others simply can't. The size of our facility, state of the art equipment including a 30 ft. lathe, and the certifications and training of our team put us ahead of others.
Facility at a Glance
12-acres of property
100,000 sq. ft manufacturing space
6,500 sq. ft fully equipped office space
22,500 sq. ft storage space
Sheet Metal Shop
AC, Inc. can cut, shear, notch, and bend aluminum, steel, and stainless steel. We have the ability to program and maintain excellent repeatability on difficult parts with our CNC brake press.
Shearing capacity up to ⅜" and 12'
Variety of power press brake equipment – 150 ton/17' capacity
CNC brake press capacity up to 12'
Two CNC automatic band saws
Two 7.5hp radial arm saws
Metal roller - capability up to 144", ½" thick
Laser cutting and water jetting partners in place for material beyond ½" thick
Machine Shop
AC, Inc.'s machine shop is capable of handling jobs of all sizes, including very large components. Materials we can handle include aluminum, steel, stainless steel, high strength steel, and various composites.
CNC lathe 36" bar feeder
Six 3-axis Fadal CNC milling centers with slide tables for vertical machining (300" capacity)
Skoda manual lathe – 28" swing, 26 ft center-to-center capacity
Numerous vertical & horizontal manual milling centers and drill presses
Large CNC Lathe - Cf Axis, 45" swing over the bed, 354" distance between centers, 22" bed width, Fanuc Oi control, 40HP spindle motor, 6" spindle bore.
Weld Shop
AC, Inc. can perform layout and fit-up of small or large components to various military or commercial standards.
State-of-the-art OTC robotic welder with positioners and 35" x 35" dual table
Variety of GMAW and GTAW welders
Five ton overhead crane
Welder qualifications are to AMS Standard #1595, (steel and aluminum), AWS D1.1, AWS D1.2, AWS B2.1, AWS D1.3, AWS D1.6 AWS D17.1 and SAE-AMS-STD-2219. In addition, some are also qualified per TACOM 19207-12472301 (armor aluminum)
Surface Finishing
AC, Inc. has the ability to coat or recondition products to meet a variety of military and commercial standards.
Powder coat paint line, including CARC
Two manual paint lines
Sand/glass/bead blast capabilities up to 30 feet in length
MIL-C-53039 Wet Coat CARC, MIL-STD-1303 Enamels for Naval Ordnance Equipment, MIL-PRF-32348 Powder Coat CARC; (others as contracts require)
Quality Control
AC, Inc. has a certified quality system and can provide complete documentation packages. Learn more about our Quality Department.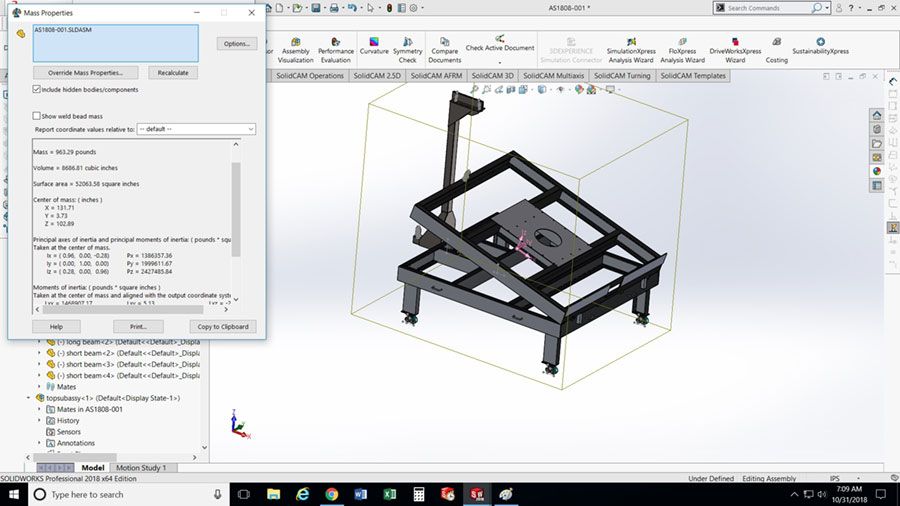 Engineering
AC, Inc. is experienced in interpreting difficult or vague drawings to ensure the end products match the need...
SolidWorks
SolidCAM
Modeling & simulation
Drawing development